Your Guide to
CNC Drive Components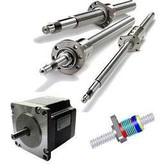 leadscrews and motors So what are CNC drive components? The drive components are the mechanical components that "drive" the CNC machine along its axis. The most common components associated with a drive system, are the motors, lead or ball screw, or rack and pinions. The whole idea of a drive system is to convert controlled rotary motion to controlled linear motion with the help of a CNC Controller. The idea of a CNC drive system is a fairly simple one. However, the actual mechanics evolved can be complicated. This is where many "DIY CNC'ers" get lost when trying to choose the correct drive system for their CNC Setup.
The drive system has a direct correlation to the machines capabilities. By understanding the CNC drive system, you have a much better understanding of a CNC machine. Just by changing a few components you can control the machines cutting speed, cutting force, precisions, and accuracy. If you are buying a CNC machine, it is best to know what type of drive components are installed. This will give you a sense of the machines capabilities and life. This is especially true if you are buying a used machine. You need to know what kind of components are installed, how much wear they have, and could you buy replacement parts if needed.
What will this guide do?
This guide offers detailed information on every component that makes up a CNC drive system. If you are building a CNC router, we will discuss money saving tips and options as well as assembly.
CNC Drive Sections
CNC Motors
ACME Lead Screws
ACME Nuts
Ball Screws
Lead Screw and Ball screw Support Hardware
Rack, Pinion, and Spur Gears
Timing Belts and Pulleys
Building your system
If the links are greyed out, the pages have not yet been uploaded.
lead screw ACME Lead Screws

(2) ACME Screw vs Threaded Rod
(3) Lead Accuracy and Straightness
(4) Life and Efficiency of Lead screw
(5) Back lash and Back Drive
(6) Loads Associated with Linear Screws
(7) Selecting a Leadscrew Part 1: The "Must Knows"
(8) Selecting a Leadscrew Part 2: Selection Process
(10) Ball screw vs. Lead screw
(11) Where to Buy and Costs
acme nuts ACME Nuts

(1) The ACME nut Overview
(3) ACME Nuts and Lead Screws Other Considerations
(9) Where to Buy and Costs
(2) Preloaded vs Standard
(4) Life and Efficiency of Ball screw
(5) Manufacturers (6) Ball screw vs. Lead screw
(7) Where to Buy and Costs
bearing blocks Lead Screw and Ball screw Support Hardware

(5) Shaft Collars (6) Bearing Blocks
(8) Where to Buy and Costs
rack and pinion cnc Rack, Pinion, and Spur Gears

(1) Understanding gear terminology
(3) Miter, bevel, and worm gears
(5) Where to Buy and Costs
Timing Belts and Pulleys

(5) Where to Buy and Costs
question mark Building your system

(1) Choosing the right gear ratio if using gears
(2) Direct Drive vs Geared
(3) Choosing the right lead and diameter lead screw